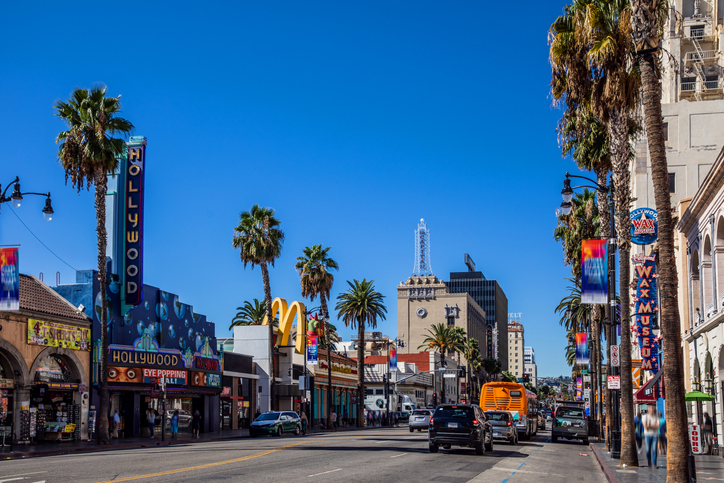 Welcome to Beverly Hills
One of the country's most iconic cities, Beverly Hills conjures to mind images of palm tree-lined boulevards, celebrity enclaves, upscale shopping at Rodeo Drive, and five-star accommodations. It represents the pinnacle of luxury living in Southern California.

Celebrities and A-listers
Hidden pockets of green
Great real estate selection

Outstanding shopping & dining
Top schools
Scroll down to learn more about Beverly Hills →
The location
---
Beverly Hills is part of Los Angeles County, about 25 minutes away from Downtown Los Angeles by car. The city is surrounded by Holmby Hills, West Hollywood, Bel Air, and relatively close to the Miracle Mile area. It takes roughly 25 to 30 minutes to reach LAX from Beverly Hills by car.
From lima beans to celebrity digs
---
Beverly Hills traces its beginnings back to the early 19th century, when Maria Rita Quinteros de Valdez settled in the area with her husband. They had approximately 4,500 acres of property, which they called Rancho Rodeo de Las Aguas.
The ranch changed hands in 1854 when the couple sold it to Benjamin Davis Wilson and Henry Hancock. They divided in the sprawling property into 75-acre parcels that were then sold. Most of these plots went to Henry Hammel and Andrew H. Denker, who then used the land to grow lima beans.
At the start of the 20th century, the ranch was sold to the Amalgamated Oil Company. Unsuccessful in their search for oil, they started anew as the Rodeo Land and Water Company and gave the ranch its new name: Beverly Hills. Lots were once again divided and sold, with the first home in the area built in 1907.
From then on, the progress of Beverly Hills went rapidly. Actors, film industry giants, and starlets flocked to the area. Some bought properties, others came to party and make their career.
The real estate market
---
One look at Beverly Hills' housing market and a person will easily understand why it is a top choice to live for high-profile individuals.
Beverly Hills is divided into several exclusive enclaves, where one can find a fine collection of housing options. A large portion of the residential real estate consists of sprawling homes and estates, built in expansive lots that guarantee plenty of privacy and just the right amount of exclusivity.
For the architecture lover, exploring luxury homes in Beverly Hills is like opening a box of assorted chocolates. Choices range from rustic villas in the Tuscan and Spanish Colonial styles, to mansions that echo European sensibilities. You can also find fine examples of contemporary homes in Beverly Hills, designed by architects such as Paul McClean.
Neighborhoods in Beverly Hills include:
Trousdale Estates, a hillside community famed for its mid-century modern homes.
The Flats, where you can find the iconic palm tree-lined streets that have come to symbolize the SoCal lifestyle.
Golden Triangle, bounded by Canon Drive, South Santa Monica Boulevard, and Wilshire Boulevard.
South of Wilshire and South Beverly Drive lined with strings of multi-family homes. In between are trendy cafes and shops.
Living in Beverly Hills, expect to brush shoulders with Hollywood heavyweights, industry moguls, celebrities, artists, and their families.
The Beverly Hills lifestyle
---
Dining in Beverly Hills
Shopping in Beverly Hills
Rodeo Drive is unparalleled when it comes to shopping in Beverly Hills, but do not miss Two Rodeo along Dayton Way, Beverly Center on Beverly Boulevard, and Beverly Connection as well.
Schools in Beverly Hills
Beverly Hills is served by outstanding public institutions (managed by the Beverly Hills Unified School District) and private schools.
Public schools in Beverly Hills include Beverly Vista Elementary, Hawthorne Elementary, and Beverly Hills High. Meanwhile, private schools in the area include Good Shepherd Catholic School, Harkham Hillel Hebrew Academy, and Futures Academy – Beverly Hills.
Live in Beverly Hills
Connect with me today at 310.927.2777 or estates(at)FlorenceMattar(dotted)com to find your perfect home in Beverly Hills luxury real estate.