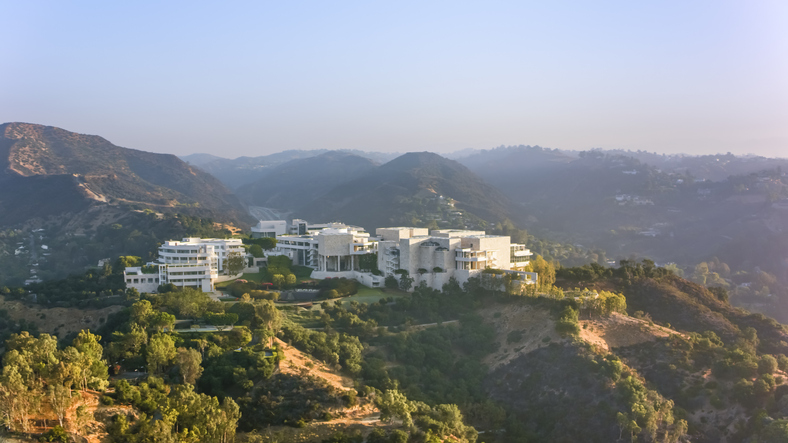 Welcome to Brentwood
Some of Los Angeles' most interesting stories come from Brentwood (check out its history). It also has an enviable location, with all the ingredients of a great place to live: beautiful scenery, accessibility, and the right balance between residential and commercial. It's easy to see why many celebrities have chosen to make their homes here.
Pleasant temperate climate all year round
Wholesome and family-friendly
Health-conscious lifestyle
Harmony between urban spaces and nature
Architectural homes
Scroll down to learn more about Brentwood →
The location
---
Brentwood is a part of Westside Los Angeles, nestled on the slopes of the Santa Monica Mountains. Its boundaries include the San Diego Freeway, Wilshire Boulevard, and Mulholland Drive. Topanga State Park, Santa Monica, and Bel Air are some of its closest neighbors.
Driving to Downtown Los Angeles takes about 20 minutes via I-10. It takes roughly the same amount of time to get to LAX by car. Beverly Hills is incredibly close, approximately 10 minutes away, and so is Santa Monica.
One of LA's most affluent communities
---
Brentwood started out as a slice of the Rancho San Vicente and Santa Monica Mexican land grant. It was eventually sold off in the 1840s by the Sepulveda family following the end of the Mexican-American war.
Not long after, development started to take place in Brentwood. The 1880s saw it as a part of Westgate until it was annexed in the early 20th century. Some parts of Westgate were absorbed by Pacific Palisades and Bel Air. Westgate Avenue serves as a remnant of this part of Brentwood's history.
Interesting events occurred in Brentwood over time. Two things immediately come to mind. First, there was the Brentwood-Bel Air fire of 1961 that nearly burned the entire community. Second was the much publicized trial of O.J. Simpson, who was a resident of Brentwood. This event stained Brentwood's reputation for a while.
Of course, Brentwood has weathered all these in stride. Today, it's one of the family-friendliest communities in Los Angeles with a string of local traditions that keep everyone together. Some of the most notable include the maypole raising at the Archer School for Girls and the lighting of the coral trees along San Vicente Boulevard for the holidays.
The real estate market
---
Brentwood's close proximity to the coast makes it more of a tranquil escape than a bustling Los Angeles neighborhood. This, along with the verdant surroundings, make the area an idyllic setting for luxury living in the City of Angels.
Homes for sale in Brentwood CA fit perfectly with this vision. Spectacular luxury homes in various forms dot the hilly landscape of the residential areas. Architectural styles range from romantic Mediterranean-inspired villas to cool contemporary and mid-century residences. Although the styles are diverse in Brentwood, the housing market feels cohesive and elegant.
Lot sizes also vary in Brentwood. At one end of the spectrum are spacious single-family residences with manicured lawns, and on the other are sprawling estates that sit on Brentwood's very best spots, commanding stunning views of the area.
The Brentwood lifestyle
---
Dining in Brentwood
Schools in Brentwood
There are a number of exemplary schools, public and private, that are located in and around Brentwood.
The public schools in and around the area are Kenter Canyon Elementary School, Paul Revere Charter Middle School, University High School, and Palisades Charter High School. These schools are run by the Los Angeles Unified School District.
Meanwhile, private schools include Mirman School, The Archer School for Girls, Carlthorp School, Harvard-Westlake School, Marlborough School, and Curtis School.
Live in Brentwood
Tour Brentwood and explore homes for sale in one of Los Angeles' most beautiful neighborhoods. Florence Mattar can show you around. Contact her today at 310.927.2777 or estates(at)FlorenceMattar(dotted)com to learn more.