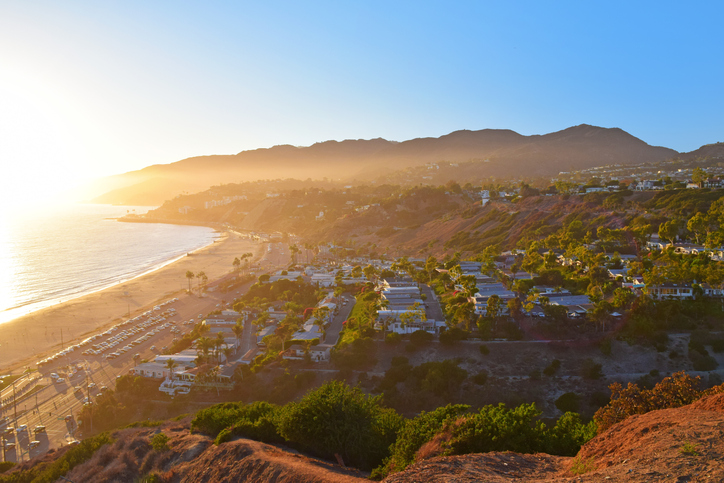 Welcome to Pacific Palisades
There is no other place in Los Angeles as laidback or as naturally blessed as Pacific Palisades. The seaside community has all the ingredients for a life well lived: the great outdoors, plenty of sunshine and fresh air, amazing views of the Pacific, and just the right distance from the everyday busyness of its neighbors.
Colorful history
The best trails in Los Angeles
Incredible weather everyday
Mostly residential
Where the mountains meet the sea
Scroll down to learn more about Westwood→
The location
---
A Westside enclave, Pacific Palisades is quite removed from the rest of Los Angeles. There are only two ways to get in and out: Sunset Boulevard and the Pacific Coast Highway. This relative isolation might scare some, but residents maintain it's one of the community's main draws.
Pacific Palisades is bounded by Santa Monica, Santa Monica Bay, Brentwood, Topanga, and Malibu. Due north is the Santa Monica Mountains. The drive to Downtown Los Angeles can take up to 30 minutes. Meanwhile, it takes about 25 minutes to drive to LAX via I-405 N.
Beach town with a fascinating past
---
At first glance, nobody would have thought that Pacific Palisades was borne out of religious ideals. But, it was.
The community was founded in the 1920s by Rev. Charles H. Scott from the Southern California Methodist Episcopal Church as a place for the religious and the intellectually inclined to live in harmony. The first residents came and lived in tents, which were then gradually replaced until mansions stood in their place.
In the 1940s, Pacific Palisades became a refuge for German and Austrian intellectuals fleeing from the horrors of the Third Reich. Luminaries such as Thomas Mann and Oskar Homolka became some of Pacific Palisades' most esteemed residents.
Today, Pacific Palisades continues to flourish and enjoys a reputation of being one of the most sought after places to live in Los Angeles.
The real estate market
---
Pacific Palisades' self-contained community offers a wide-ranging luxury real estate options. Some of the earliest homes here, located along the Alphabet Streets, are smaller in size but are highly regarded. Condos are also present in Pacific Palisades real estate, as are breathtaking mansions with the best views of the ocean. Since there are no beachfront estates, residents can enjoy miles and miles of sandy beaches.
There are several neighborhoods in Pacific Palisades, such as Palisades Riviera (where the Riviera Country Club is located), Rustic Canyon, Huntington Palisades, and Marquez Knolls. These neighborhoods broaden the options of homes for sale in Pacific Palisades.
The Pacific Palisades lifestyle
---
Dining in Pacific Palisades
Outdoor in Pacific Palisades
Pacific Palisades is an outdoor lover's dream. The beach is not far, about ten minutes away from the center of the community, and residents have access to miles of some of the best trails in Los Angeles.
There are three parks in Pacific Palisades: Potrero Canyon Park, Temescal Canyon Park, and Rivas Canyon Park. They all have hiking trails open to the general public, allowing residents to explore more of the natural beauty of this coastal community.
Schools in Pacific Palisades
Public schools in Pacific Palisades, such as Palisades Elementary Charter School, Marquez Charter Elementary School, and Palisades Charter High School fall under the supervision of the Los Angeles Unified School District (LAUSD).
There are also several notable private institutions located in Pacific Palisades. These include the Pacific Palisades campus of Le Lycée Français de Los Angeles, the Westside Waldorf School, Calvary Christian School, the Village School at Swarthmore Avenue and Seven Arrows in Palisades Village.
Live in Pacific Palisades
The ideal way to explore the fine homes for sale in Pacific Palisades is through an expert realtor. Connect with Florence today to see what's in store for you in Pacific Palisades real estate. Get in touch at 310.927.2777 or estates(at)FlorenceMattar(dotted)com to start.