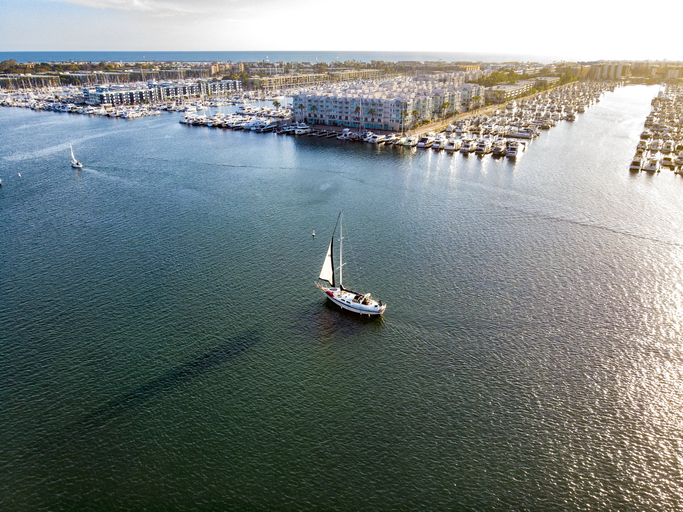 Welcome to Marina del Rey
The boating lifestyle reigns supreme in Marina del Rey. Best known for being the home of the largest man-made small-craft marina in the country (hence the name), Marina del Rey offers the kind of hop-in, hop-off living boaters look for whenever they are not on the sea.
Idyllic waterfront location
Water activities galore
Sunshine and cool sea breeze all year round
Small and affluent
Highly walkable and accessible
Scroll down to learn more about Marina del Rey →
The location
---
Marina del Rey is located in Westside Los Angeles, tucked between Venice, Playa del Rey, and Del Rey. To the west lies the great Pacific Ocean. Santa Monica is also located nearby.
Frequent flyers will find plenty to love about Marina del Rey's location. Aside from being the biggest small-boat harbor in the country, the neighborhood is also located in close proximity to LAX. Driving from Marina del Rey to the airport takes about 20 minutes. Meanwhile, Downtown Los Angeles is approximately 30 minutes away by car.
Welcome to Yacht City
---
One of the most amazing things about Marina del Rey is that the land where it sits used to be a salt marsh. Instead of a boater's haven, this area before the 1950s was a favorite for local duck hunters.
Then, the tides started to change. It started in the 1880s, when the first plans to create a commercial harbor in the area were drafted. There was constant back and forth, and during the time that spanned, Port Ballona was sold, Del Rey and Playa del Rey were created, and the surrounding areas have started to come together.
Finally, in the 1950s, the U.S. Army Corps of Engineers submitted a plan that reinvigorated the dream of building a harbor. This plan was greenlighted, and they received a loan for the project. There was a hitch, however. The loan amount wasn't enough to cover the construction. Because of this, then-president Dwight D. Eisenhower signed Public Law 780, which enabled the construction of "public works on rivers and harbors" to make Marina del Rey a reality.
The real estate market
---
The real estate landscape in Marina del Rey is markedly different than its neighbors. Because of the limited land area available and the transient nature of some of its local population, homes for sale in Marina del Rey are mostly composed of condos, townhomes, and apartment complexes.
Although the property types usually revolve around those three, the housing options remain plentiful. There are eco-friendly residences, luxury apartments and condos, and high-rises with some of the best views in the entire Marina del Rey. Design-wise, architectural styles in Marina del Rey range from mid-century to contemporary. Some of Los Angeles' best-known architecture firms have left footprints here.
The Marina del Rey lifestyle
---
Dining in Marina del Rey
Another must-try experience in Marina del Rey is to go on a dining cruise. There are several outfitters in the area offering a wide range of services, from public cruises to private escapades.
Shopping in Marina del Rey
There are three main spots for retail therapy in Marina Del Rey.
First, there's the local Farmers' Market, held every Saturday from nine in the morning to two in the afternoon. This is the place to get fresh produce and locally made handcrafted goods.
Waterside at Marina del Rey offers an upscale shopping experience, while Villa Marina Marketplace is more of a one-stop shopping destination with retail, dining, and entertainment spaces.
Schools in Marina del Rey
Although there are no schools in Marina del Rey, the community is zoned to the Los Angeles Unified School District. The public schools located close to Marina del Rey include Venice High School and Coeur d'Alene Avenue School.
Live in Marina del Rey
Looking for homes for sale in Marina del Rey? Get in touch with Florence today at 310.927.2777 or estates(at)FlorenceMattar(dotted)com.