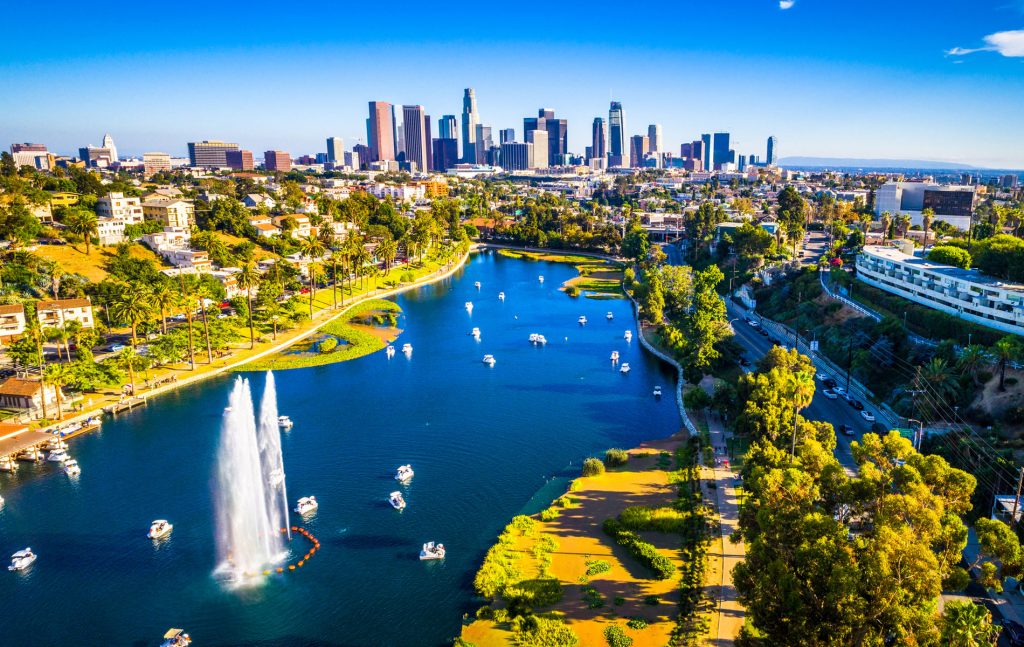 From picturesque sunsets on the beach to a stroll down Hollywood Boulevard, there is no denying that Los Angeles has some of the most Instagram-able destinations in the nation. Many visitors come for a magical Disney getaway and find themselves staying for the idyllic weather. Whether you are living in Los Angeles or just visiting, there are a number of spots nearby that most visitors have never thought of visiting. 
Not only are these the best places to visit in Los Angeles, but these destinations also offer the perfect photo op, so you can snap the perfect selfie. Here are the top destinations in L.A. for that perfect Instagram shot. These are some of the best things to do in L.A. to impress your followers.
"Urban Light" at the Los Angeles County Museum of Art
5905 Wilshire Blvd, Los Angeles, CA 90036, United States    Phone: 323-857-6000
The Los Angeles Museum of Art will allow you to take one of the most beautiful night shots in the city. The art installment "Urban Light," created by renowned artist Chris Burden is an excellent location for an artistic photo shoot.
The piece consists of 16 different glowing lampposts. Set against a scenic blue California sky, it creates an elegant daytime photo. However, if you wait until sunset, the view is even more stunning. All of the lampposts light up at dusk and it makes for a magical and surreal experience. You will have to pay a small fee to look at all of the art in the building but you can also stroll through "Urban Lights" for free on the nearby LACMA grounds. You won't want to miss this beautiful shot!
Echo Park Lake
751 Echo Park Ave., Los Angeles, CA 90026   
This scenic park is located in the recently restored Echo Park Lake, in nearby East Los Angeles. This spot is a local favorite for those who are looking to picnic in the beautiful L.A. weather or walk their dog along the lake.
It's a popular destination for all ages. It has a gorgeous view of the Downtown L.A. skyline with a tropical frame of towering palm trees. Echo Park Lake is a great place to bring the family and enjoy an ice cream or paddle boating. 
The lake is not far from the center city and it is a fantastic place to go to get away from the bustle of the city.
The Getty Center Gardens
1200 Getty Center Dr, Los Angeles, CA 90049   Phone: 310-440-7300
The Getty Center Gardens is the perfect spot for art lovers of all ages. L.A.'s infamous Getty Museum is the home of some iconic and timeless art pieces but it is also the home to a lovely and lush botanical garden. Not only is this a great place for tourists to visit but it is a beautiful place to snap that perfect Instagram shot. 
The garden is full of colorful flowers and a wide array of flora that rotates with the season. This is truly one of the most photo-friendly spots in all of L.A. If you are looking to visit the museum or the botanical gardens, you are in luck. The admission to both is free, so snap away!
Carlsbad Ranch Flower Fields
5704 Paseo Del Norte, Carlsbad, CA 92008   Phone: 760-431-0352
If you are set on exploring every inch of California's beautiful coastline, be sure to stop by Carlsbad on your route up to Los Angeles. These fields have produced some of the most incredible views for over sixty years. Due to the great climate, steady winds, and just the perfect amount of rainfall, these flowers spring to life with every color of the rainbow. 
This is one of the most popular photography destinations in all of California. If you want to take the perfect shot, you should plan to visit in the spring or summer season when the flowers are most vibrant. 
The Orpheum Theater
842 S Broadway, Los Angeles, CA 90014   Phone: 877-677-4386
It doesn't get more iconic, or more L.A. than the famous Orpheum Theater. Opened on February 15, 1926, this grandiose theater hosted some of the best Vaudeville acts from the golden age of performance. Then in 1989, the theater was renovated and repurposed as a movie theater.
Locals and Angelenos who grew up in the area can remember the theater throughout their lives and watching countless famous acts. The variety of acts ranged from comedians to burlesque performers and even some iconic musicians. These days, the theater is mostly utilized as a concert and performance venue. If you are looking to get a shot that captures the historic style and feel of Hollywood, this is a must-visit.
Learn more about life in Los Angeles. Get in touch with us at 310.927.2777 or Estates(at)FlorenceMattar(dotted)com to find out what your options are in real estate.