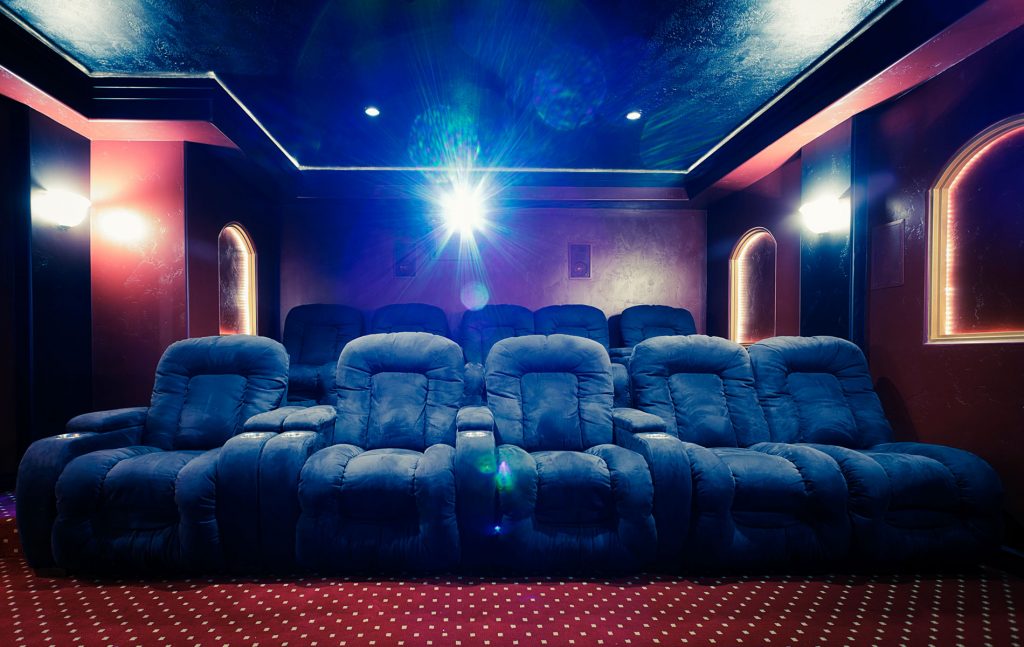 If you are a connoisseur of the finer things in life, then you are sure to love these luxurious, high-end theaters in Los Angeles. The amazing amenities offered at these ritzy cinemas feature reclining leather chairs, plenty of legroom and if you are looking to truly relax, some even provide beds. You can experience your favorite feature films with a full-service menu of designer beverages presented directly to your seat. 
If you are looking for Los Angeles luxury homes for sale, be sure to enjoy a movie in between home shopping. Here are some of L.A.'s most luxurious theaters, so you can watch your next film in style. 
AMC Marina 6 Dine In
13455 Maxella Ave #270 Marina del Rey, CA 90292  Phone: (310) 827-7955
If you are looking to enjoy an adult beverage with your film, the AMC Marina 6 Dine In mixes cuisine and cocktails for a unique and luxurious movie-going experience. This upscale cinema has ultra-comfy power recliners and if you require service, simply press the onboard buzzer. 
Their all-inclusive menu features classic fare such as burgers, sandwiches, spicy tacos, flatbread, and even a kid's menu. If you are looking to enjoy an adult's night out, the complete cocktail bar is ready to serve up classic martinis, sour margaritas, and many more signature drinks. It is important to mention that this theater requires all patrons to be over 21, which is perfect for a date night. So hire a babysitter and head on over to AMC Marina 6. 
iPic Theaters
10840 Wilshire Blvd. Los Angeles, CA 90024   Phone: (310) 307-7003
If you are searching for a truly pleasurable movie-going experience, iPic Theaters, located in Westwood has got your covered. iPic's take on cinema brings watching a movie to an entirely new level. The sleek and modern theater could be compared to an extravagant resort and brings a chill lounge vibe to the atmosphere. The theater itself is made up of six auditoriums each with 424 seats. When choosing your ticket, you have the option between premium seats or premium plus. Both options come with wide leather seats, and the plus package includes a recliner, blankets, and pillows.
If you opt for the plus seating, you also receive complimentary popcorn, and seat service with food and beverages. With the press of a button, your server will appear and deliver your choice of gourmet food or specialty cocktails, right to your chair. 
The food options are sourced from nearby Tanzy Express, where world-class chef Sherry Yard has created a distinct and regionally sourced menu. The dishes include favorites such as salmon tartare, potato knishes, and pork belly empanadas. 
As if that weren't enough, cocktails are served up by artist sommelier Adam Seger. Their cocktail list uses house mand syrups, fresh bitters, and creative infusions. You would never expect such a classy affair at a cinema, yet iPic manages to deliver.
Landmark Theatres
Westside Pavilion 10850 West Pico Blvd. Los Angeles, CA 90064   Phone: (310) 470-0492
Landmark Theatres is known as the largest theater chain in the nation that dedicates itself to showcasing independent films. It is famous for taking chances on artistic or Avant-garde films, ever since its inception in 1974. 
Landmark not only promotes indie films, but also shows many mainstream films and summer blockbusters. No matter what you are looking for, Landmark always provides a fantastic film lineup to pick from. 
In addition to their excellent film selection, Landmark also draws a crowd from their gourmet concession goods, stadium seating arrangements, and top-notch customer service. If you opt for one of their screening lounges, you will be able to view the film from the comfort of a comfortable couch or loveseat. Be sure to reserve your tickets prior to arrival as they do tend to sell out quite quickly.
Cinépolis Luxury Cinemas
Westlake Village 180 Promenade Way Westlake Village, CA 91362    Phone:(805) 413-8838
Cinépolis is located inside the Promenade at Westlake among the finest Los Angeles luxury real estate. This cinema is a truly revolutionary experience and will change the way that you enjoy films. At Cinépolis, you will begin by selecting your seating online, then you can enjoy their exclusive and well-decorated restaurant and bar before the movie begins. 
The lounge serves up some amazing signature cocktails as well as a wide selection of gourmet treats that range from pizza to cheesecakes. Be sure to try their famous "zebra" popcorn which is decadently coated in  both white and dark chocolate swirls. At the touch of a buzzer, a server will bring you food or drink from a well-planned menu that seems to have everything from wraps to seafood. Cinépolis makes movie watching a truly luxurious experience.
Ready to make the move to Los Angeles? We'll help you find your dream home here. Give us a call at 310.927.2777 or email us at Estates(at)FlorenceMattar(dotted)com today.